Since he announced his retirement from professional motorcycling in 2013, he has always been linked to the world of motorsport, either acting as ambassador and representative of Ducati around the world or closely following MotoGP races, commenting and analyzing them for the DAZN platform. .
Carlos Do you feel comfortable in the role of commentator? Do you relive the moments when you were the protagonist?
Each day I like it more. On the one hand I feel some nostalgia, because you take notes of each circuit from when you had competed, but it helps you understand your past, because when you compete everything happens very quickly. Before I competed, now I am talking about those who compete and this situation, if you know how to channel it, enriches a lot and makes you see the competition from another perspective. When you are a pilot you see a small window that is yours and you look in a single direction, now instead you pay attention to everything, you have a broader vision of the whole. I try to convey sensations, emotions, the things that happen inside the pilot's head, I try to enrich the broadcasts with the comments, so that the spectators can experience the race more from the inside, at the pilot level. From a personal point of view, after 20 years being in the World Championship, with the people in the paddok I feel very comfortable, it is like a second family.
What projects do you have in the short and long term?
At a professional level, continue as a commentator and at a sporting level, facing next year, because this is already forgotten with the whole Covid19 issue, preparing to do some rally, perhaps doing Merzouga again, or Pan-Africa. Also continue doing the activities that I like, for example the EnduRoc in Comas, The 3Hours of resistance in Fontanals de Cerdanya or Purito Andorra by bicycle.
And the Dakar?
Right now it is not in my plans but I do not rule it out for the future. What I would like is to do a shorter rally like the Merzouga, the Morocco rally or the Baja Aragón.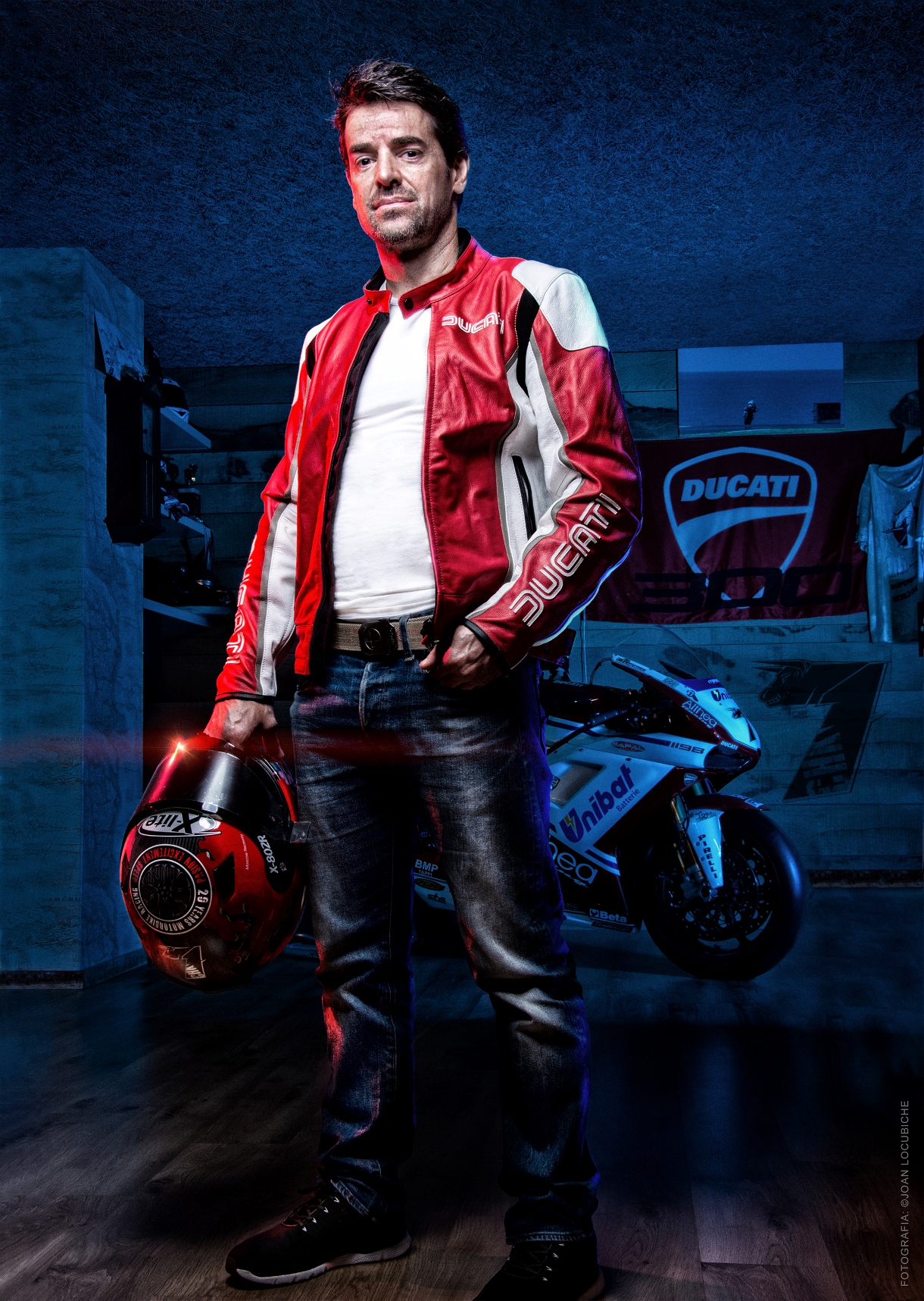 How is your day?
Regardless of the situation generated by Covid19, which has stopped everything, I have a calendar marked by the broadcasts of the Grand Prix and the commitments with the Ducati team, with which we maintain the link, both for our common past and for the good relationship that currently exists. I like to do sports every day: in winter I do cross-country and mountain skiing, I also go biking two or three times a week. Cycling is a very social sport, I can go with friends and participate in different races as a sporting challenge. On the other hand, I want to go skydiving again, I have to go to the wind tunnel and jump in Castellón with a good friend with whom I got the title.
Currently the Grand Prix motorcycles are faster and there are fewer accidents than when you competed. During your career, what technological changes would you highlight of those that you lived through and those that have been carried out to this day?
The most important was the change from two-stroke to four-stroke engines, then the tires, especially when Bridgestone arrived, which improved the level a lot and Michelin had to put the batteries in. Thanks to this, the angle of inclination has been greatly improved in all categories and modalities. The evolution of electronics has also been very important. Since I retired, the subject of materials, tuning, programming and maximum grip of the tire has been refined. Everything goes through a series of data on many components that are on the bike, starting with the rider, who has the last word. Currently electronics is working a lot. If you change the geometry or change the spring or some mechanical parameter of the motorcycle, it affects you throughout the circuit, in all curves, but instead with electronics you can select the sector or curve where to give more retention to the engine, for example. There are many values ​​that you can modify at one point of the circuit's path without affecting the rest. Everything is calculated, everything is taken into consideration. We are talking about tenths of a second and the small details count more and more. On the other hand, I think there will be more changes, for example in the clutch. Every time it is used less, now the rear brake is on the foot but in the future it will be in the left hand and perhaps there will be a secondary lever that will be the clutch that is only used in the output. Ailerons have also been changed so that the front wheel does not lift. In recent years they limited the electronics, because the sensor subtracted power and instead, with the ailerons, the power also arrives. Now we are working with this aerodynamic part despite the fact that it is a very expensive technology and not all teams can incorporate it.
Helmets, boots, overalls, gloves are very important elements in the safety of the pilots. How have they improved?
The monkeys have incorporated the airbag and the most difficult part has been developing the software system that decides when to activate, distinguishing when a fall is taking place. The boots have also greatly improved in materials and comfort. Gloves are the most difficult thing to evolve because the hand has to be very protected but at the same time have sensitivity, it is the part that has the most mobility and the one that articulates the most. Thickness is the enemy of touch. As for the monkey, the fur is still animal. We often discuss this topic with Gabriele Mazzarolo, the head of Alpinestars, who would like to find artificial leather and I totally agree with his approach. Kangaroo leather is still used at this point, because it has a lot of elasticity and is the best for abrasion. Synthetically this has not yet been achieved.
Do you think the difference makes the pilot more and more?
Would Marc Márquez be an example? Have you ever said that you can pilot everything.
There has always been a rider who has made a difference and I think Marc Márquez is above all. Technology is increasingly important within the championship, there is more and more, there is more information and everything has evolved a lot, but in this motor sport, it is still the driver who makes the difference on the machine. What I mean is that today, riding a Ducati, a Yamaha or a Honda, the same rider could win with any of the three brands. Today, Suzuki is not far behind and Aprilia and KTM are somewhat further behind.
How does a MotoGP rider prepare? How did you train?
This is very personal, it is not the same as in athletics or cycling for example, where there are parameters and quite standardized training programs. You cannot take the competition bike and train every day like trial riders, you need to mobilize 20 people, a circuit, some conditions, all the logistics that make it unfeasible and it cannot be done by regulation. So you train yourself doing motocross, enduro or trial. Physical preparation plays a very important role and it is evident that the stronger you are physically, the better. I tried to dedicate 4 or 5 hours a day to training, between physical preparation and specific motorcycle training. Joan Carreras accompanied me for many years as a physical trainer and the last 5 years were done by Joan Ramón Tarragó. As a psychologist I was with Pep Font from the CAR of Sant Cugat. We work on some mental aspects. Towards the end of my career the training sessions were more intense and shorter. At first I could spend three or four hours on an enduro circuit. It is very difficult to replicate a training on a competition motorcycle track with a motocross motorcycle. On a bike you train to fine-tune the set-up, speed and braking, but the most important thing is that your reflexes, perception, desire and intelligence are up to the task and this is learned over the years. The experience is forming you. There is no ABC of what makes one a pilot. At the mental level there are pilots who have a psychologist.
Did you do any specific work to train your eyesight?
I worked a little on peripheral vision, even on the CAR in Sant Cugat, but this aspect is very instinctive.
What virtues does a Moto GP rider have to have? What makes you a world champion?
It is a sum of elements, the desire, the obsession to ride a motorcycle and intelligence. You have to be very competitive and have a lot of ambition to win, these are the main virtues that make a champion. From there, having an innate capacity, being very skillful and intuitive. Physically you have to be strong, have a body adapted to the bike. The most complete wins. When you are in the world, you have to know how to make your team, carry out the set-up and assert yourself. You have to create a suitable personal environment that helps you. In addition, at the moment you are playing the championship you have to be very cold and calculating to withstand the tensions and manage everything. Only with ambition, desire, winning character and intelligence, he becomes a champion. These traits are already seen since one is small. In addition, during a pilot's sports career, there will be very difficult moments that they have to know how to face. They say that there are the pilots who have fallen and others who have to fall. There are sports disappointments that do more damage than a fall. You also have to convey the problems very well to the Technicians. When you go 300 km / h on the motorcycle, you lean, brake, accelerate, etc. You have some sensations that you must make understand to the engineers who are in the box, sitting in a chair at 0Km / h. The rangefinders interpret all the electronics, lines and graphics that replicate the movements of the suspension, the operation of the engine, the temperature, etc. and from his interpretation, together with the rider's comments, which sometimes coincide and sometimes not, changes are made to the bike.
What goes through your head when you are two corners away from winning the championship?
That race I was very focused, even though we still had margin, I focused only on noticing, feeling and acting. Of course, when I had one lap left I let go a bit because I had a certain advantage over Marco Melandri and I tried to enjoy the moment. I don't know what went through my mind but I wanted that lap to never end. He was abstracted, noticing the bike, its touch and enjoying the riding. The last two laps I spent a lot on myself. I remember that in the last two corners the emotion was already uncovered and I saw the family, the public, the team people, the fans and I let everything flow. Then, afterwards you think of all the people who have helped you from the beginning, because without them it would not have been possible. You have a feeling of gratitude and satisfaction for all of them, because their help was worth it.
With which bike have you had the most confidence and competed the best?
The Ducati 1199 Superbike, with which I won the World Cup.
The best teammate?
I've been fine with everyone. Lately I talk a lot with Biaggi and Melandri with whom I have a very good relationship, also with Valentino and Capirossi. But perhaps the one with the most personal relationship is with Alberto Puig.
What athletes deserve your admiration, inside and outside the engine?
I would tell you Toni Bou, Marc Márquez, Nadal, Messi, José Antonio Hermida, Laia Sanz, Pep Guardiola …
I highly appreciate the tense and pressured moments of extreme sports such as Freestyle skiing and downhill biking. It is clear that individuality has nothing to do with collective sport, now that, if we talk about Messi, it is another story. In an individual sport there is no one who defends you or who runs for you.
An idol that you had as a child?
Wayne Rainey, Kevin Schwantz, Àlex Crivillé, Indurain… They were the photos he had hanging in his room or in the school folder.
Who was your toughest rival?
It has been to overcome myself, to overcome my weaknesses and my weak points and above all, the circumstances and the moments, such as the accident I had in England. In many moments you have to accept that if you have not done better it is because you have not been better and this is not easy. The rivals I have had have been my teammates and those who have helped me to improve myself, without them we would not have broken so many limits, I would not have grown as a pilot nor would I have done what I have done. The first rival is yourself. From here, in a championship, if we talk about the year I won the World Cup, then Max Biaggi and Marco Melandri. If we talk about who has been one of the best rivals, Valentino Rossi would say that he is one of the people who stood out the most and is the most capable of riding a motorcycle and winning.
How do you manage fear, how do you manage to control it, especially after a serious fall like the one you had in Donington Park in 98?
There are different types of fears and sometimes it is difficult to recognize them. The possibility of suffering a serious accident, or dying or a sports defeat that makes your aspirations disappear. You have to be realistic with your goals and measure well as far as you can and should risk, always maintaining maximum attention and prudence. It is an internal negotiation between your desire and your ambition. Fear is always there, if not, we would not be alive. When you are small you are unconscious, you do not perceive it and when you get older, you begin to recognize it and then you negotiate with it. When facing a race, a curve or some other type of activity, you value the risk and then accept it or not. Everything changed for me in '98, all my fears came at once. Until then I was not afraid of falling, I had other fears, such as winning, failing or losing. After the accident, I became afraid of falling, parachuting, cycling, scuba diving. I suffered from a lot of anxiety and the only way to overcome it was to face it, understand it and act. Little by little you leave it behind. Deep down, if you like something a lot, you end up overcoming fear. It is also true that fear manifests itself in many ways and depending on motivation and desire, it is latent or active. The fears that I took when I retired I no longer wanted to face them, the fear surpassed my ambition.
What have the careers you have been able to apply in life teach you?
Part of my school has been competition and sports. They are what have pushed me to learn fast and a lot, to move around the world and organize myself. The best lesson I have learned from the competition is that if you want something, you have to go for it and try hard.
What is the maximum speed you have reached?
At 347Km / h in China, in 2005.
How do you see the future of the World Superbike Championship?
Superbikes are series-derived bikes, prepared to compete, but the dominant championship is MotoGP and the builders are betting there. There has been a team like Kawasaki that has focused a lot on Superbikes and as a consequence we have a championship where the Kawasaki clearly dominates, with a great rider who is Jonathan Rea. Still, Yamaha made a significant effort and I think they are already at a very good level. Ducati has also done a good job. Álvaro Bautista was leading the championship last year. Now, in this moment, it is getting more and more balanced.
Do you think there may be any surprises in MotoGP and Superbikes in the coming years? Do you see, for example, Álvaro Bautista capable of breaking the dominance of Jonathan Rea?
Last year had a very good start but did not maintain the level for different reasons. This year with the Honda will be much more difficult for him, although he did very well in Australia. It is a new team and they have work to develop the bike, it remains to see a few more races although the schedule resulting from the Covid-19 crisis has been greatly reduced. I think that this bike will hardly be at the best level to fight for the championship.
You have spent a lot of time together with Japanese culture. Something that caught your attention?
We would have to learn a lot from Japanese culture. What I would highlight most is the personality they have, their values, their honesty. Actually I have some good friends in Japan. They dedicate themselves to work and are people of their word, perhaps they are not as extroverted as the Mediterranean, they celebrate celebrations differently. The time they spend on each thing and activity is interesting. It seems that they are not very emotional, but they are not.
Have you thought about writing a book with your experiences?
I have been asked several times, I do not rule it out but I would like more to write a pedagogical book, about pilot training, that speaks at a technical level, of preparation, like a manual.
What motorcycle do you have on the street?
I have a Ducati Multistrada and a Yamaha 125 Scooter.
A book?
"The third side of the eyes" by Giorgio Faletti.
A movie?
I can't choose one, I'd say "Gladiator", "Life is Beautiful" or "Barry Seal", for example.
A music group, a song?
Archive is a group that I listen to a lot lately and that I like. Also Joan Dausà.
A sport that you have not yet done but would like to practice?
I would like to do extreme skiing and also wingsuit flying, a skydiving modality that you do with an aerial suit that imitates the body of a flying squirrel, and you are planning a good time!
A superstition or custom?
I like order, but I have no superstition. On the bike, I did notice if the handlebar was more open or closed. I am a person of routines, yes. Instead Italians have a lot of superstitions!
An anecdote?
I have a few. There is one that happened in Malaysia, in 1994, the first year he raced in 250cc. When we had collected, I went to the bathroom and when I came out I saw that everyone was carrying boxes and supplies. My Italian team had left without me for the airport and with my suitcases! I was alone on the circuit, without a passport or phone because we are talking about 1994. I remember perfectly!